Dental Implants – Cranford, NJ
Modern Tooth Replacement for Longer-Lasting Smiles
As a periodontal practice that regularly sees patients suffering from tooth loss, our team of board-certified specialists is skilled and trained to provide modern tooth replacement solutions for longer-lasting smiles. We accomplish this by using dental implants. Superior in their ability to restore the entire root-to-crown structure, these prosthetics deliver countless benefits that cannot be obtained by any other form of restorative care. At Cranford Center for Periodontics & Dental Implants, we can treat all kinds of cases ranging from simple dental implants to All-On-4. No matter how many teeth you are missing, our team of experts can help you regain the confidence you deserve.
Why Choose Cranford Center for Periodontics & Dental Implants for Dental Implants?
Implant Placement by Periodontic Specialists
Sedation Dentistry for Anxious Patients
Expertise to Handle the Most Complex Cases
What are Dental Implants?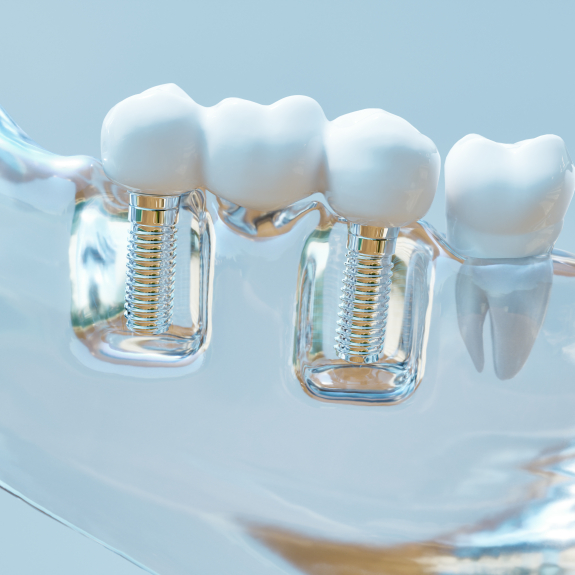 Dental implants are titanium posts that are surgically placed in the jawbone and mimic natural tooth roots. Designed to create a solid foundation for your new smile, these prosthetics help to support dental crowns, bridges, or dentures depending on how many teeth you are missing. Known for fusing well with the jawbone, they look and function naturally so that you can enjoy a new and improved smile.
The 4-Step Dental Implant Process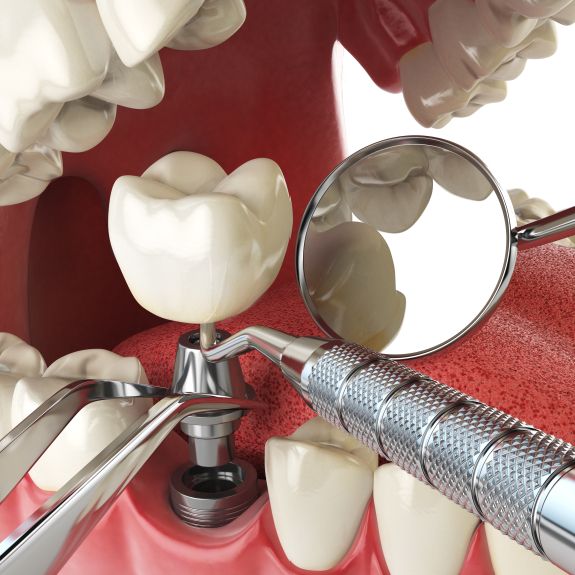 Initial Dental Implant Consultation – You will undergo a thorough consultation to determine your candidacy for treatment. Our team will determine if you require any additional pre-implant procedures to create a more stable and supportive foundation for your new teeth.
Dental Implant Surgery – Our team of board-certified periodontists will administer local anesthesia to numb your mouth before installing each implant post into its corresponding position before closing the gum tissue.
Dental Implant Osseointegration/Abutment – Although you can resume your normal activities sooner after your implant is placed, osseointegration to occur, which is the fusing of the implant to the bone tissues, takes anywhere from 3-6 months. You'll then return to receive your metal abutment(s), which attach to your implant posts.
Delivery of Dental Implant Restoration(s) – Depending on how many teeth you are missing, you will receive a customized dental crown, bridge, or denture that restores your complete smile and improves its functionality.
Benefits of Dental Implants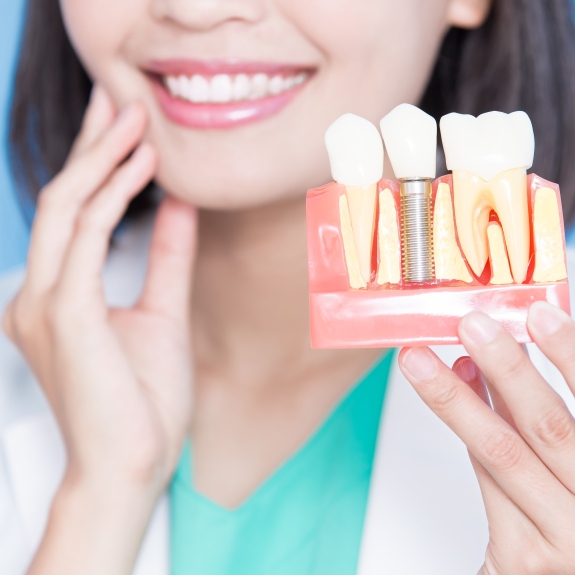 Dental implants offer endless benefits that cannot be achieved with other forms of tooth replacement. As a modern form of treatment that is viewed as the gold standard among dental professionals and specialists, they deliver long-lasting results that allow patients to enjoy healthier smiles for a lifetime. Also, they are equipped to withstand daily wear and tear so that you can eat your favorite foods without worrying about slippage. You can even reduce your risk of systemic diseases that are commonly linked to tooth loss such as osteoporosis, heart disease, and diabetes.
Who Dental Implants Can Help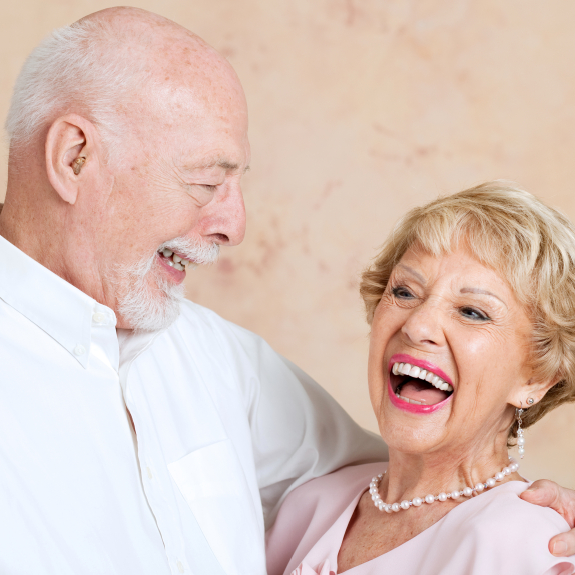 You'll be pleased to learn there is no bad candidate for dental implants. Anyone suffering from tooth loss can expect to enjoy a healthier smile for a lifetime with the help of these prosthetics. What it ultimately comes down to is what you need to ensure maximum support and longevity. While this may include pre-implant services such as bone grafting, sinus lifts, tooth extraction, or periodontal therapy, you can rest assured that our team will go out of our way to ensure the success of your future smile.
And during your consultation, we'll go over just how versatile dental implants are when it comes to replacing any number of missing teeth, including: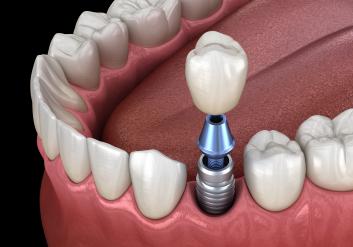 Missing One Tooth
Only a single titanium implant post, metal abutment, and a customized dental crown are needed to restore the look and functionality of your smile. Our team can easily perform this procedure in-house so that you remain with the same, trusted professionals, and you can avoid the need for altering healthy teeth that are often required with fixed dental bridges.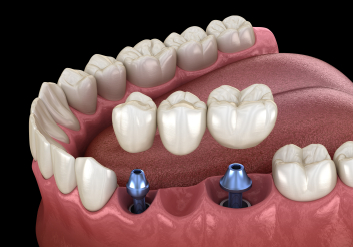 Missing Multiple Teeth
While a fixed bridge is a clear alternative that many dentists recommend, an implant bridge is far superior because we only use two implant posts and a customized restoration on top. This eliminates the need to touch healthy structures and instead, allows you to keep nearby teeth fully intact while restoring and rebuilding your smile with an implant bridge.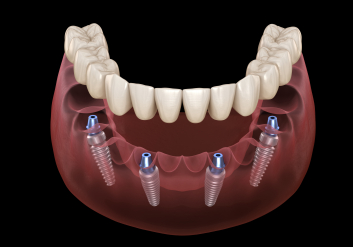 Missing All of Your Teeth
We can use an implant denture alongside 4-6 implant posts to fully recreate your smile, or we can suggest using four titanium posts in the densest parts of your jawbone for All-On-4. Similar to implant dentures, this solution uses fewer posts and delivers the same great results without the need for bone grafting.
Understanding the Cost of Dental Implants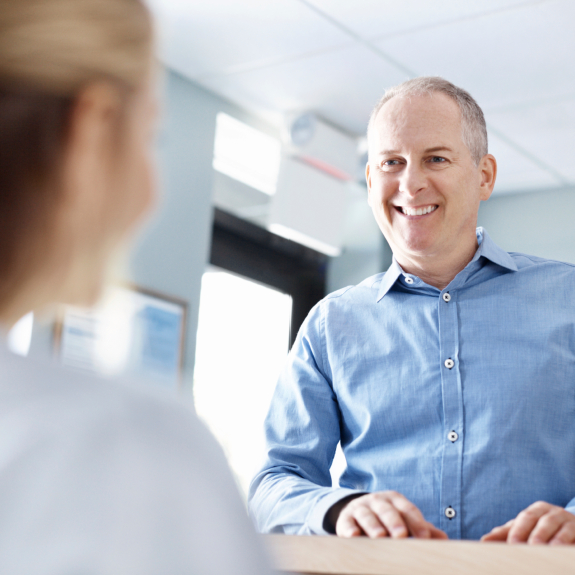 The only way we can determine the cost of dental implants is to conduct a full consultation during your visit. This will allow us to examine your oral anatomy and facial structure to decide how best to proceed. Depending on the number of teeth you are missing, we will need to calculate the number of posts you will need, the type of restoration to create, and if you require any preliminary treatments beforehand. Once we have this information, our specialists will discuss the cost estimate and help you make the right decision regarding your financial obligation for treatment.